About Us
Al's Cabinet Shop has been serving Monroe County and southeast Michigan for three generations. We offer countless choices and higher quality than the big-box store products at surprisingly affordable prices. Let us help you design the cabinetry of your dreams.
High-Quality, Plywood Construction
Your Satisfaction is Guaranteed
200+ Years Combined Experience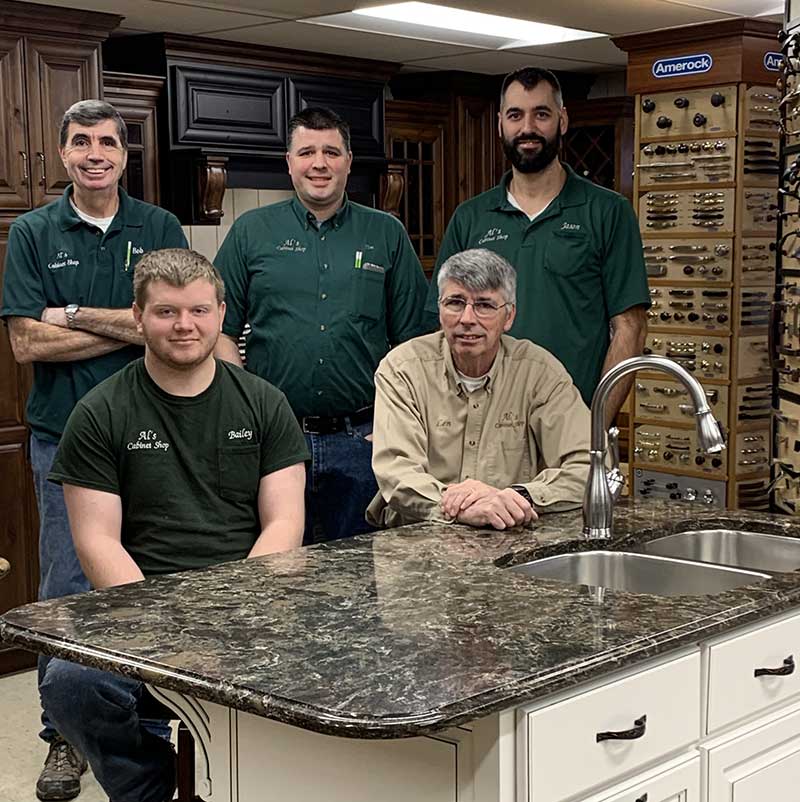 L to R: Nancy VanDaele and Heather VanDaele
Our History
The history of Al's Cabinet Shop is traced back to Jon VanDaele, who brought Old World craftsmanship with him when he came to America from Oostnieuwkerke, Belgium with his family in 1928.
He was a carpenter in his homeland, and when he settled in Monroe, he found a demand for his talents. He created, for example, much of the inlaid woodwork at the Motherhouse of the Sisters, Servants of the Immaculate Heart of Mary.
Jon passed along his love of woodworking to his sons. Two of them, Julian and Julius, began a cabinet shop, and Albert Sr., another son, began working for them. Later, Albert Sr. struck out on his own, working for other cabinet shops and making cabinets for Banas, the building center in the Maybee area. Albert began his business in his garage.
As business continued to grow the Cabinet Shop expanded its location in downtown Maybee until fire struck the neighborhood building in 1974. Al's then moved to the 8,400 square-foot location where it now stands.
Over the years the business became infused with 3 generations of family talent. The VanDaeles take raw lumber and turn it into custom-sized, finished pieces. Then they install them.
Custom Cabinets
We provide free estimates with no obligation and take care of all the details, from removing your old cabinets to reinstalling your sink and dishwasher. Most installations take only one or two days.
Countertops
We can help you choose the perfect countertops to suit your personal taste and budget. We provide countless options thanks to our network of trusted local and regional partners.
We can't say enough about your professionalism and craftsmanship of our cabinets. The precision and ease of the installation was astounding. We are thrilled. You made it possible for us to host Thanksgiving for the first time in years. — Lori & Fritz
We are thrilled with our new chests of drawers!!! They are stunning and make our bedroom cohesive, serene and like a photo in Architectural Digest. The quality is outstanding and the professionalism of everyone involved, both in scheduling and service, was amazing. Thank you so very, very much. – Sherryll & George
Thank you for helping us to design a one-of-a-kind home. Your expertise and creativity allowed us to use our imagination and truly express our personalities! It was a great experience to work with all of you. — Laura & David
Although what I had needed was very small, the courtesy and service were just as though I had a big job. Being a woman and trying to order something, often times gets you the run around from some men who think you don't know anything. I wasn't treated like that at all from either of your gentlemen. — Cyndi
Message Us
Get In touch below.